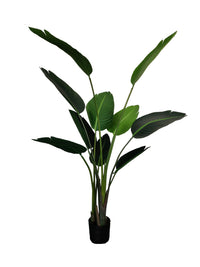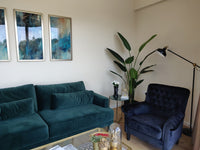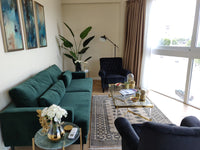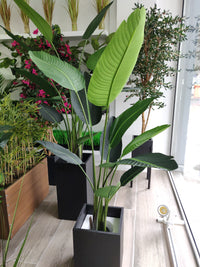 Artificial Strelitzia - Bird of Paradise (Height: 150cm & 180cm) - 37001 & 37002
Product code: 37002
Comes in a plastic pot
Pot diameter: 18cm
Plastic Trunk with real look 
Rubber Leaves
Total height of plant (incl. pot): 150cm / 180cm

Width of area covered by leaves: Aprox. 125cm
A very realistic looking artificial strelitzia plant that stands at 180cm high, from the bottom of the plastic pot that comes with it, to the top leaf. I has a combination of dark green and lighter green colour on its leaves, for a more realistic look and the leaves are made of rubber. The trunk is plastic with a very realistic look.
Quality:

Our artificial strelitzia plants are premium quality made using top quality materials to ensure they look lush, realistic and healthy for many years. 
Use:

Our artificial plants can be used to either decorate your home, office or business and they will add some colour to your place. You can purchase just one piece, or many of them to create a beautiful greenery in your area. This artificial strelitzia plant comes in a plastic pot that can easily be placed inside your current planter or you can combine it with 
our wooden pots and planters
 and even add some gravel to make it look even more appealing and realistic. It is a very lovely, contemporary style plant which holds simplicity and elegance.
Maintenance-Free:

Due to the fact that our artificial plants do not require any maintenance, you will be able to enjoy their beauty in any area you decide to place them in, and never worry about their watering and caring. You will be able to create a colourful look even if you put them in places where real plants would most likely not survive (i.e places with a low sunlight). They will also make a great addition to any office environment where you do not want to spend any productive time in taking care of the plants.
Please 
contact us
 for delivery and/or any other requests.